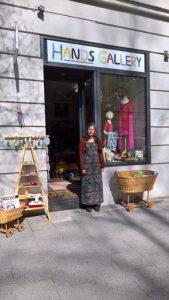 Welcome to Hands Gallery!
Discover a surprising variety of hand crafted gifts, fashion and home accessories waiting for you at Hands Gallery. Centrally located in Haidhausen, this unique store offers a selection of products lovingly created by local artisans here in Munich.
Go to our photo gallery for examples of our knitted, crocheted, hand sewn and machine embroidered items, including sweaters, hats and caps, scarves, bags, t-shirts and pillows. We can personalize many items. Other items can be custom ordered to fit your needs.
We also carry beautiful jewelry made of paper beads and semi-precious stones. And we usually have several different guest artists who add variety to the selection.
If you have any questions or if there is something you don't understand, don't hesitate to contact me. (Tel: 089 67 97 1964, mobile: 01578 22 16 901,  email: kontakt@handsgallery.de)
Drop by our store. We'd love to see you!
Pariser Str. 21 Munich / Haidhausen
Tues/Thur 12pm – 6pm
Wed/Fri 10am – 4pm
Sat 10am – 2pm
Or visit our online shop to see pictures and prices of an assortment of lovely handcrafted textiles.